AVIONE DOES NOT HAVE JET AIRCRAFT. AVIONE JET PROVIDES INTERMEDIATION SERVICE IN THE FINDING OF AIRCRAFT IN AIR AMBULANCE SERVICE.
AIR AMBULANCE BY JET
AvioneJet's aim has always been providing the best service whether it is business-oriented or a trip to another country; but sometimes, preventing the bothersome situations is impossible such as health threatening ones. For occasions requiring emergency air transfer, we deliver you the best air ambulance service with an approach that full of caring your health as much as you could. These jets are commonly described as light jets and lighter than others; usually serve as an air taxi. In contradiction to other jets, medical types of equipment are placed according to a plan and bunk to relax for companions are considered. Besides jets, helicopters can serve in special conditions such as:
In emergency situations where road transport cannot be chosen
In areas where jets can take off/land
In case of patient is allowed for air transportation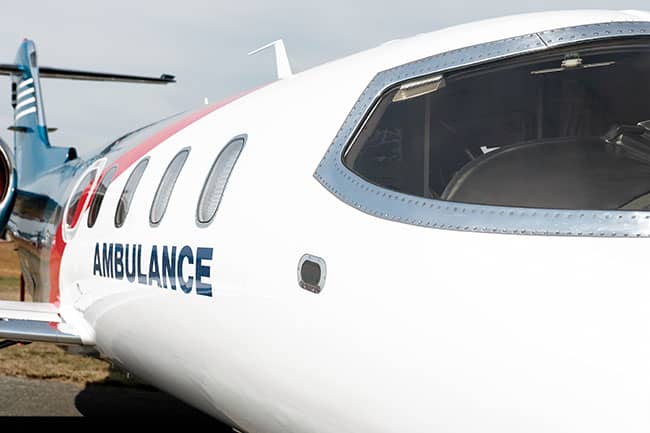 THE PROCESS OF AIR AMBULANCE
Whether it's Turkey or abroad, jets are waiting ready at their holding point and take off in between 60 and 90 minutes prior to the start of the process. Informing us about the age, medical condition of the patient would help to pick the right jet. As soon as the doctor approves that medical situation of the patient is available for a flight, the medical team takes the patient from the hospital and transfer process starts. During the transportation, medical team which serves your patient is responsible for checking the patients' condition and informing you in an environment filled with all equipment needed. This service is not given only to adult patients, also pediatric, neonatal, geriatric and bariatric patients can benefit from our services. Jet models can differ, so for more information you can click here.
INCLUDED SERVICES OF AIR
Ground transportation during the transfer
Handling visa procedures for international
Epicrisis report prepared by medical team
MEDICAL TEAM
The medical team is gathered in accordance with the consultation done by the hospital which patient is treated at. The core of the team is a doctor and an intensive care nurse, but a specialist doctor can join the team in specific situations. The medical condition of the patient is observed by the help of medical equipment in the jet during the flight and companions, which can consist of two people in domestic flights or one person in domestic flights, are informed frequently.
PATIENTS CAN BENEFIT FROM AIR AMBULANCE
1. NEONATAL PATIENTS
For neonates who have seen the light for the very first time with a life-threatening condition, immediate treatment is crucial. Loss of time can lead to dangerous situations, and in this case, AvioneJet, who understands the importance of time, is right here to serve you whether it is domestic or international.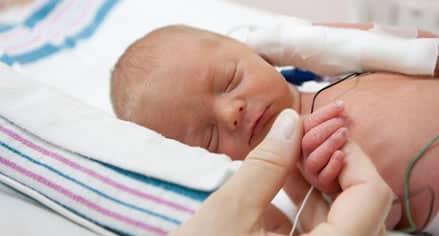 Our air ambulances have all types of equipment needed for transportation of premature. First of all, the incubator is a must-have, because it contains an intensive care unit and makes possible the long-distance transportations. Required temperature can be set and keeps your baby in a hygienic and sterilized environment with an adjustable respirator.
What is Neonatal Intensive Care Unit?
Time after birth is quite complex physically and psychologically for mother and her baby. Therefore, care during the medical transportation has importance. Babies enter an adaptation process while blinking their eyes for the very first time, thus, AvioneJet serves with the ultimate neonatal intensive care units. There are three basic characteristics in our neonatal air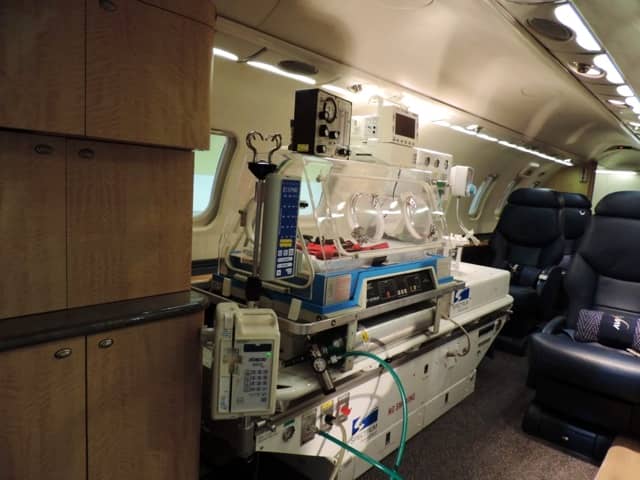 Specialized
Incubator
Required or will be required medicines for infant
Except for basic equipments, for instance, Babypod which helps baby having a stabilized medical condition to transfer to another stretch is used during the transportation for babies have weight between 1500g and 6000g. Besides those, there are other medical types of equipment which partaking in every air ambulance. Our team is specialist in their field and perform the best possible transfers for the most fragile and little infants. Also, in the team, there are pediatric doctor and nurse.
2. PEDIATRIC PATIENTS
In an emergency for children has been badly injured or going through a life-threatening illness, AvioneJet provides the best transfer with a qualified and competent team while you race against time. By thinking the best for your children and empathize with your sensitiveness to him/her, we transfer your kid to the destination in the best possible short time. Medical team which monitors the patient's condition has full responsibility and specially trained. The team is cautious to any complication can occur during transportation and also pay special attention to transfer after the flight. The team which will take care of the pediatric patients are specialized in this fields.Head nurse is specialized in the pediatric field, and her/his responsibilities are:
Evaluating the condition of the patient according to subjective and objective data such as temperature and blood pressure and making a record of
Applying the oral-parenteral and external medicine where necessary.
Using therapeutic games during the treatment.
The team is cautious to any complication may occur during flight, also pay special attention to transfer after the flight.
3. BARIATRIC PATIENTS
In recent years, obesity which is a result of unhealthy nutrition and health conditions and can lead to a life-threatening medical condition has been affecting the %20 of Turkey's population. To diagnose a patient with obesity, the weight of the person should be 50 or more kg than her or his ideal weight. At the most unexpected times, accidents may occur and when it comes to a bariatric patient, treatment is harder. The situation gets more complicated when the patient is far from home. We always take precaution during the transfer when it comes to the bariatric patients. For a safe transportation process, a logistic plan is done considering the physical condition of the patient. For instance, the door of the plane, stretcher and types of equipment are chosen considering requirements. NITRO HB 6220 bariatric patient bedstead is one of the special types of equipment.
WHAT SHOULD BE CONSIDERED FOR BARIATRIC PATIENTS?
During the flight, pressure changes can weaken the adipose tissue and release nitrogen in the blood and can cause fat emboli. To prevent it, %100 oxygen is placed on the patient for 15 min prior to transport to minimize the indications and handle it, we always work with team members which are specialized in their field. From beginning to the end, we consider every problem that can occur before the transportation and give you a qualified service as AvioneJet.
4. GERIATRIC AIR AMBULANCE
Illnesses can knock everyone's door at every age, but for old people, the chances are higher. Geriatric population includes people between the age of 65+ and they form %8.3 of Turkey's population. Sometimes, there may be a competition with time when it comes to elderly people who mostly suffer from medical problems. AvioneJet serves for geriatric patients who would like to transfer from hospital to another one or having medical problems during a trip. The seriousness of the patient's medical condition is important for us as much as yours, thus, AvioneJet understands the importance of the physical and psychological condition of the patient and performs the transfer with the best medical team.
Flight Physiology
Geriatric patients can suffer from chronic conditions such as congestive heart failure, respiratory insufficiencies which require more oxygen consumption. Besides, they are affected more than other patients by altitude changes, therefore oxygen is readily available to the patient and can be quickly administered by the medical crew members.
Medications
During the flight, some medications can be applied to prevent stress and anxiety, but geriatric patients are more sensitive and there might be a reaction to previously used medicine. Medical team avoids from any medicine can cause a reverse reaction on patient's conscious.
Skin Integrity
Geriatric patients mostly have more sensitive skin compared to other age groups, thus, medical team pays special attention to the patient during transportation. Primarily, the flight crew does a comprehensive skin assessment before the flight to prevent any skin breakdown. Concerns of the patient and companions are decreased by this way.
Dehydration
Another problem may occur during transfer is dehydration risk which is more possible for geriatric patients. Dehydration is prevented by fluids given by orally or intra venally. Most of the conditions are considered to prevent any complication, overall, your patient will be in good hands.
MEDICAL EQUIPMENT LIST
FAA Approved Stretcher System on
Cardiac Monitors, ECG, invasive and non-invasive blood pressure
Defibrillators
IV Pumps & Solutions
Infusion
Oxygen supplies, regulators and
Pulse
Portable Suction
Intubations
Respirator /
Oropharyngeal
Hand Operated Bag-
Mask
Blood Pressure
Emergency Drug
Clean Linens, Blankets and Pillows
FREQUENTLY ASKED QUESTIONS
1. WHAT IS THE SOLUTION IF AREA IS NOT CONVENIENT FOR AN AIR AMBULANCE?
For situations like this one, we prefer helicopters.
2. CAN PATIENTS ON A VENTILATOR BENEFIT FROM THIS SERVICE?
As mentioned before, to start the transfer, doctor approval is required, therefore if you get a validation report, the transfer process can start by any air ambulance including required types of equipment.
3. WHICH DOCUMENTS ARE REQUESTED FOR TRANSFER?
For domestic flights, ID photocopy of both patient and companion is needed but for international flights, to start the procedure, passport photocopies are needed. In addition to this, the medical report is required.