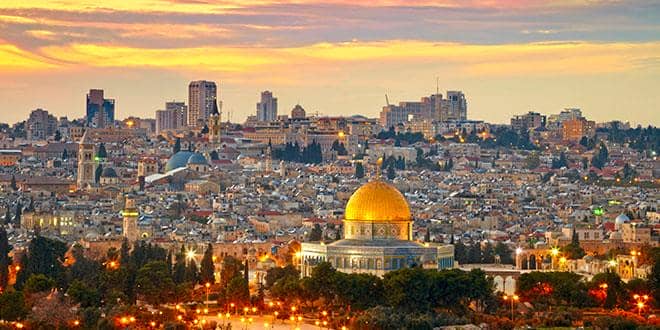 Jerusalem Private Jet Charter
Lying at between the Mediterranean and the Dead Sea, Jerusalem has continued its existence in despite of the fact that it's been destroyed at least twice, attacked 52 times and captured so many times. This extant and stubborn city stands as a 'living history' by itself, therefore you can walk in the footsteps of prophets and give ear to muezzin's call while intense and aromatic smells of spices tickle your nose. Furthermore, being the third-holiest city after Mecca and Medina, city listed as a UNESCO World Heritage Site.
This divine city's airport, Atarot, hasn't been in use for a while. Being the nearest airport to Jerusalem, Ben Gurion Airport welcomes the visitors of the holy city.
Ben Gurion Airport
The world's most secure and the Israil's main airport is ranked fifth in the Middle East. Known as Lod Airport from 1948 to 1973, the name of airport has been changed to grace the Israel's first prime minister.
Over years, airport has been extended and consists of two terminals while Terminal 1 is the main one; there are also unopened two terminals more. All flight procedures such as security check and passport control is handled in Terminal 1. Boarding area of this terminal contains duty-free shops and refreshment areas. Terminal 3 has the same facilities as Terminal 1 and serves 24 hours a day. Free-wifi is provided and lounges are available for the use of commercial flight and private jet passengers.
Variable transportation vehicles serve to people whose main destination point is Jerusalem.
More About Jerusalem
Think of a city that will take your breath away and leaves you speechless as soon as you leave there. Jerusalem has fascinated visitors for more than 3,000 years. This ancient walled city is spiritual, and houses many different religions. While you walk through the streets of Jerusalem, you could see Christians kneel at the one side and at the other side, Muslims bow in front of the Al-Aqsa Mosque. Temple Mount, considered as a holy site, hosts pilgrims troding there every year. This serene area has an open plaza, ancient stones and cypress trees. The Western Wall is one the remarkable religious side in the city and built as a retaining wall to support the Temple Mount. Currently, a nice open-air synagogue is active in front of the Wall.
City has always impressed and striked visitors due to being one of the oldest cities in the world, and other attractions in Jerusalem include The Mosque of the Ascension, the garden of Gethsemane, the Bible Lands Museums and so on.
Avione Jet offers you more than a simple flight; our service includes ground transportation to reassure our passengers concerned about reaching to city. Whether it is personal or business-oriented, we promise you to satisfy all your requests while you have a smooth and pleased flight from or to Jerusalem.