FLYING TO BUCHAREST WITH ONE OF OUR PRIVATE JETS
FLYING TO BUCHAREST WITH ONE OF OUR PRIVATE JETS
Fly to Bucharest with one of our affiliated private jets for an unforgettable holiday. Our team has the expertise to well organize your private jet charter flight to Bucharest promptly.Here, our goal is to deliver an exceptional service on a personalized level. By developing long lasting relationships, our experts can understand better your personal flight needs and ensure all your private jet trip is tailored to your specific needs. Contact an Avione Jet travel agent today and we could have you or any size of group on a private jet to Bucharest within 2-3 hours notice.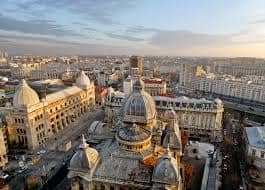 The capital, Bucharest is the cultural & financial center of the country, besides being Romania's biggest city. Bucharest has an exciting art community, many institutions of higher education systems, and alot of recreational areas. Bucharest hosts many lakes and it is settled on the Dambovita River. Remarkable parks include the Bucharest Botanical Gardens, Herastrau Park and the Cismigiu Gardens. The city has a continental climate with temperatures often below freezing in winter time, and summer temperatures rising as high as 35 degrees.
In Bucharest,you should not be skipping Palace of Parliament and the National Art Museum for cultural outings. The Ghencea Civil Cemetery is on the west side of the Palace of Parliament. Here you could see the resting places of his wife Elena and Nicolae Ceaușescu. The previous President of Romania is buried in row 1-35, while Elena lies in row H-25, remarkably not next to her husband who had been universally despised.
You should definitely try very authentic cuisine of this culture when you have a chance to charter a private jet to Bucharest. The kitchens often serve up delightful Romanian fare and draws a notable crowd. You can enjoy the modern atmosphere while tasting traditional Romanian food. La Mama will offer you the most scenic dinner in Bucharest. Sit outside on the terrace and enjoy the country-style meals served in big portions. To have a unique night out, have reservations at Count Dracula Club. It's a dracula-themed place with a gothic decor and even more haunting dishes. Even Dracula himself appears for a show on Friday nights.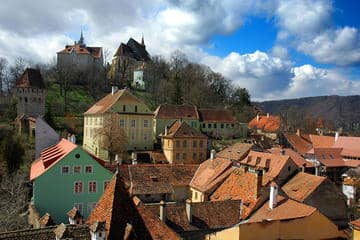 With 24/7 access to more than 7,000 available private airplane, an Avione Jet air charter representative could help you decide on the most appropriate private aircraft for your charter flight in Bucharest. You can have luxury preferences such as on-board gourmet dining, masseuse, shower, endless entertainment items such as movies and satellite radio.
Before your Bucharest private charter flight, Avione Jet ensures the plane and the operator meet the standards set by related aviation and safety authorities. We conduct a 3rd party safety audit on every and each private charter flight arranged for our guests. We carefully monitor all aircraft and the operators within our due-diligence safety programme to secure the safest private jet trip to Bucharest . At Avione Jet, safety is an essential priority, that's how we call ourself one of the safest private jet charter broker.