FLY TO BRATISLAVA BY PRIVATE JET
FLY TO BRATISLAVA BY PRIVATE JET
Take a private jet to Bratislava, with Avione Jet and experience what private aviation can offer you. With such a short notice, an Avione Jet air charter specialist can provide you with the best aircraft for your personal and corporate needs from a wide selection of plane types and cabin sizes. Above all, you fly on demand to meet your specific schedule, while you experience a great luxury and freedom such as our gourmet catering services. Avione Jet takes the hassle out of international trips. Our flight planning department can even handle your hotel and ground transportation requirements. Private jet hire to and from Bratislava has never been easier with us.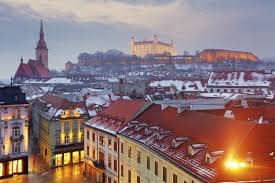 Bratislava is the main city of Slovakia.It is located between Austria and Hungary, two great countries. The city hosts the Danube River. The city has the reputation of being both the cultural and the economic center of Slovakia and has the highest population in the country. Travellers in Bratislava will immediately notice the remarkable contrast in the city's architecture. Metallic skyscrapers and space needles dating back to 21st century surround medieval castles and fortifications like Michael's Gate. Bratislava Castle is located on a hill overviewing the whole city.
We always aim to satisfy our guests maximumly. Other broker companies might be interested in one-time sales with the maximum profit. At Avione Jet, we recognize that each and every guuest is an individual, so we work to ensure that your charter flight to Bratislava will be above your expectations. Your personal Avione Jet air charter specialist is available to you 24/7. As a leading member of private aviation industry, Avione Jet always seeks to increase integrity and consumer confidence by promoting fair pricing. Our clients fly several times with us because they know that they receive a seemless service from a company they could trust and that life-time relationship is what has made us a top choice for our frequent flyers.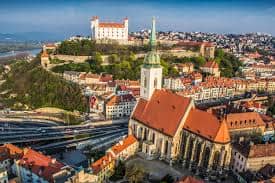 Avione Jet is an online platform where you can search the most convenient private jet option to organize individual or corporate private jet charter to Bratislava, promptly . Our experienced team of aviation specialists ensure you get the best pricing for the best private jet options. Moreover, you fly in confidence being aware of the fact that all aircraft we use are properly selected in accordance with our security policy. We only cooperate with operators proven to reach our safety and quality standards. Our due-diligence safety procedure requires all of our partners to be regularly audited by authorized organizations such as Argus and Wyvern. Avione Jet ensures you a true experience of luxury and an amazing private flight to Bratislava.
Private jet jire to Bratislava has never been easier withus !