HIRE A PRIVATE JET TO BOLZANO
HIRE A PRIVATE JET TO BOLZANO
Avione Jet offers private jet flights to Bolzano, Spain.Whether you are flying for leisure or business, our online booking platform will help you find the correct aircraft option. Bolzano is a great private jet destination where you could discover endless attractions. Our 24/7 team will be fully assisting you with your private flight trip to Bolzano. You could also hire helicopters for city tours.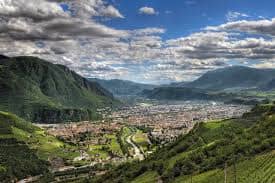 Settled between Venice and Augsburg, Bolzano is the capital of the Tyrol South. The city is neighbour to Germany, and for long centuries after the fall of the Romans was occupied by Bavarians. Today, Bolzano stands for a mix of German and Italian heritage with about ¾ of the country speaks Italian and the other ¼ German.
There are a lot of ski resorts within one hour drive to Bolzano Airport. Or you can rest your head closer to sea at the Gardenhotel Premstaller, in the Bolzano apple orchards. Or accomodate yourself at the Hotel Eberle, overlooking the city. The Eberle features a very fine dining and access directly to the Oswald promenade.
At Avione Jet, we know that every client is an individual and he deserves a tailor made service. There is no '' same service for everybody '', so each trip is overseen by an air charter consultant available 24 hours a day. We are proud of ourselves for having an extensive knowledge of the air charter business to share with our guests. We are aware that international travel can be tiring, so we help to minimize your worries with a broad range of services from onboard wi-fi to personal concierge. We keep our amateur soul while working to make our clients enjoy their European travels.That's one of the things which keeps us on the top of the list in private air travel, and we are sure that your next private airplane trip to Bolzano will be unforgettable.

Avione Jet is an online platform where you can search the most convenient private jet option to organize individual or corporate private jet charter to Bolzano, quickly. Our experienced team of aviation experts ensure you get the best prices for the best private jet options. Moreover, you fly in confidence being aware of the fact that all aircraft we use are properly selected in accordance with our security policy. We only cooperate with operators proven to reach our safety and quality standards. Our due-diligence safety procedure requires all of our partners to be regularly audited by authorized organizations such as Argus and Wyvern. Avione Jet ensures you a true experience of luxury and an amazing private flight to Bolzano