ABERDEEN PRIVATE JET HIRE
Avione Jet is the best place to experience the luxury of hiring a private jet to Aberdeen. Avione Jet is offering you an unforgettable private jet travel to Aberdeen. You can enjoy vip services on board like super delicious meals from our wide choice catering menu or choose entertainment and business capabilities. Our private jet experts also take care of services on ground such as hotel reservations and vip transportation, so you can enjoy your private jet to Aberdeen on a luxurious and well-maintained airplane in the whole world. Avione Jet air charter team is available 24/7 to arrange your next private jet charter to Aberdeen for your either personal or corporate needs. No matter it is a leisure or corporate travel, Avione Jet will take care of all your needs.

Aberdeen is Scotland's 3rd most crowded city, and it's no doubt why. Always a booming mercantile center after the Industrial Revolution, and recently one of the best oil producers in Europe, the city has had an important impact on the U.K. economy. Add to this great shopping, fine gardens and rich history, it's out of question why Aberdeen is called the 54th most livable city in the world.
Though located up north in the oceanic climate of Scotland, Aberdeen has a relatively milder weather. Winters are not as harsh as in other parts. The cold starts around December and ends towards March. Every year, different regions of the U.K. compete in growing the most beautiful flowers. Aberdeen is the favorite. The city has won the record 10 times. Despite the fact that there is a decrease in manufacturing, the city keeps a big number of skilled laborers. Importantly, the city is located on one of the biggest oil reserves in Europe, which has given it the title of the Oil Capital of Europe.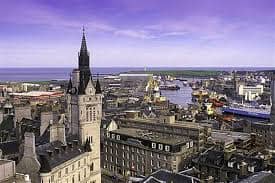 Avione Jet is an online platform where you can search the most convenient private jet options to organize individual or corporate private jet charter to Aberdeen, promptly . Our experienced team of aviation experts ensure you get the best prices for the best private jet options. Moreover, you fly in confidence being aware of the fact that all aircraft we use are properly selected in accordance with our security policy. We only cooperate with operators proven to reach our safety and quality standards. Our due-diligence safety procedure requires all of our partners to be regularly audited by authorized organizations such as Argus and Wyvern. Avione Jet ensures you a true experience of luxury and an amazing private flight to Aberdeen.